Virgin Atlantic's First Pride Flight
Now you can buy tickets for Virgin Atlantic's first Pride Flight

The airline has scheduled its first Pride Flight to transport British revelers from London to New York in style.
The one-off flight is as much a celebration of queer culture as it is a mode of transport. Broadway star Tituss Burgess, known for his role in Netflix show "Unbreakable Kimmy Schmidt," will oversee proceedings and the six-hour flight will be packed full of live performances and appearances from special guests.
The flight will be entirely staffed by LGBT pilots, officers and cabin crew.
Celebrations in the air

"The LGBT community has made enormous strides over the last 50 years, and I'm so proud to partner with Virgin Holidays and Virgin Atlantic to mark this occasion in style and celebrate the hard-won freedoms from those who came before us."
Pride celebrations across the world often take place in June, officially designated Pride Month, in commemoration of the June 1969 Stonewall uprising, often seen as a turning point in the fight for LBGT rights.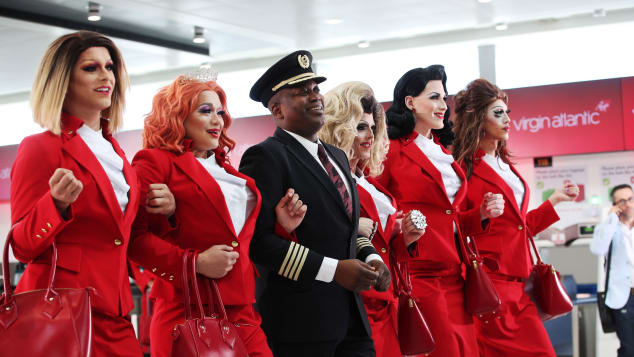 The flight will be staffed by LGBT pilots, officers and cabin crew.
Next year will mark the 50th anniversary of this historic event and New York City is planning a joint Stonewall 50/WorldPride event.
Officials reckon the celebrations will attract visitors from around the world.
"As a City founded on diversity, inclusivity and a welcoming spirit, we're extremely pleased to host World Pride 2019 — the first time the big event will be held in the United States, while at the same time marking the 50th anniversary of the Stonewall Uprising," says Fred Dixon, President and CEO of NYC & Company — the city's official marketing organization.
"Through our partnership with Virgin Atlantic and Virgin Holidays we're delighted to invite UK LGBTQ travelers and allies to New York City to be a part of these historic events, expected to draw more than 3 million visitors and be one of the largest LGBTQ events in history."
Past pride

Other major airlines, including Delta Air Lines and United, have also had an active presence at Pride Parades. This year, a graphic T-shirt United Airlines produced for 2018 Pride, depicting airplanes flying with streaming rainbow colors, was a runaway hit.
United and Delta were also listed in Human Rights Campaign's (HRC) 2018 list of the "Best Places To Work" in the airline industry for LGBT employees. Also mentioned were Alaska Airlines, American Airlines, JetBlue and Southwest Airlines.
In the past, Virgin Atlantic has sponsored Pride in London and employees in uniforms have marched in Pride Parades.
"We take our commitments to diversity and inclusion seriously, but you can rest assured we have a lot of fun along the way. This is going to be a show-stopping, ground-breaking, one-of-a-kind experience that we can't wait to bring to the skies next June," says Mark Anderson, Global LGBT Lead for Virgin Group and Executive Vice President at Virgin Atlantic.
The flight will depart from London Heathrow to NYC's Newark airport on Friday June 28, 2019 — with a flexible return date on offer — and you can grab an Economy Light ticket from £380 ($500). There's also the option to buy a three-night Virgin Holidays package from £699 ($920).
A portion of each ticket sold will be donated to The Attitude Magazine Foundation, working on community Pride initiatives in the UK.